Java APIs to Manipulate File Formats
Manipulate Word, Excel, PDF, PowerPoint, Outlook and more than 100 other file formats within Java applications without any software dependencies.
  Download Free Trial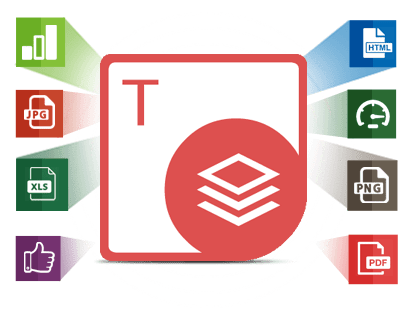 Aspose.Total for Java
Aspose.Total for Java combines all file format APIs for Java as a single package that are offered by Aspose. It empowers developers to create, edit, render, print and convert between a wide range of popular document formats within any Java (J2SE, J2EE, J2ME) applications.
We compile all Java APIs on a daily basis to ensure that it contains the most up to date versions of each of Aspose Java APIs. If a new Java API or a new version of existing APIs is released during the subscription period – it will be included in Java package and you are fully entitled to download and use it.
Aspose.Total for Java includes the following document format APIs:
 Advanced Features of Aspose.Total for Java APIs
Delivering our very best, and getting better with each release.
Generate reports using mail merge
Excel Reporting - Build dynamic Excel reports on the fly
Insert formatted text, images & tables
Create Excel dashboards incorporating charts and Pivot Tables
High-fidelity Excel rendering and printing
Create new PDF documents using the product API
Transform an XML document into an Adobe Acrobat PDF file
Convert an image file into PDF format
Create new slides or clone existing slides from templates
Find and edit existing shapes
Add, remove, replace or extract text from PDF files
Add, remove, replace or extract images from PDF files
Convert a PDF file to an image
Generate barcode images and save to stream or image file
Recognize barcodes from stream or image file
Open and play windows metafiles (WMF)
Render Windows metafiles (WMF) to images
Convert Windows metafiles (WMF) to other graphics formats
Export Visio Drawings to PDF, XML, Image, XPS, HTML, SVG, SWF and XAML
Create user-defined cell in the ShapeSheet
Add and connect Visio shapes
Insert a New Blank Page into a Visio Drawing
Process a Multitude of File Formats
Aspose.Total for Java allows you to build an incredibly versatile file processing system capable of handling many popular file formats. You can easily open, create, modify and even inter-convert file formats of following types.
Microsoft Word documents
Microsoft Excel spreadsheets
Microsoft PowerPoint presentations
Adobe PDF documents
Microsoft Visio drawings
Microsoft Outlook emails
Microsoft Project documents
Microsoft OneNote documents
AutoCAD drawings & 3D formats
Images
HTML files
Packed with Utility Functions
Aspose.Total for Java brings to you a toolkit of handy utility APIs allowing you to add barcode and OCR functionalities to Java applications, create & consume recurrence patterns and utilize network protocols including SMTP, POP3, MIME, IMAP, FTP, DNS, ICMP and WHOIS.
Microsoft Office Automation – Not Needed
Aspose.Total for Java is built using managed code that does not need Microsoft Office to be installed on the machine to work with supported document formats. It is a perfect Microsoft Office automation alternative in terms of supported features, security, stability, scalability, speed and price.
What People Are Saying
Don't just take our word for it. See what users have to say about Aspose.Total APIs.
During our implementation, we could sense that we touched only a fraction of what Apose.Total is capable of. The API's ease of use give the developers satisfaction for "getting work done" with it's simple and clean code, and the end product's robustness makes our customers happy.Igor Klafke | W3K Tecnologia, Brazil
We tried several other free and paid solutions, but all of them had limitations that were too great for our use-case. Most of the problems with our solutions arose in converting Microsoft Office files to PDF. Only Aspose proved to do this perfectly every time.Rick Goud | ZIVVER, Netherlands
We can only say one thing: excellent product and excellent service. Sometimes, you can find a good product with a lack of customer care. This is not the case for Aspose.Andreu Garcia | Fermator, Spain
Aspose.Total is a powerful suite to process nearly all kinds of documents in high speed and great quality. It effectively reduces the programming effort.Thomas Groß | Join and Share, Germany
Previous
Next
View Case Studies
Support and Learning Resources
Why Aspose.Total for Java
Aspose.Total offers individual solutions for other platforms.