C++ PowerPoint Manipulation APIs
Read, Write, Process and Convert PowerPoint presentations within C++ applications without any Microsoft PowerPoint dependencies.
  Download Free Trial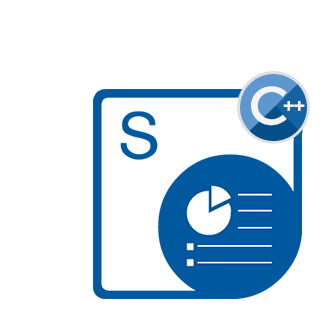 Aspose.Slides for C++
Aspose.Slides for C++ is a powerful API to manipulate, render & convert PowerPoint files without requiring Microsoft PowerPoint. API supports high fidelity rendering of slides in the documents to various graphics formats as well as provides the functionality to modify or create almost all the possible contents of the files, format text and shapes on slides and much more.
Aspose.Slides for C++ supports most of the Microsoft PowerPoint and slideshow formats including PPT, POT, PPS, PPTX, POTX, PPSX & ODP and exports these to popular formats.
At A Glance
Overview of API.
Create Charts
Work with SmartArts
Work with PowerPoint Shapes
Support for ActiveX Controls
Support for Ole Objects
Manage Text & Formatting
Manage Hyperlink Text
Set Placeholder Type
Text Placeholders & Frames
Supports MSO Charts
Supports SmartArt Shapes
Supports ActiveX Shapes
Manage Slide Transitions
Manage Animation Effects
Add Connectors to Shapes
Rotate & Flip Shapes
Manage Shape's Line Styles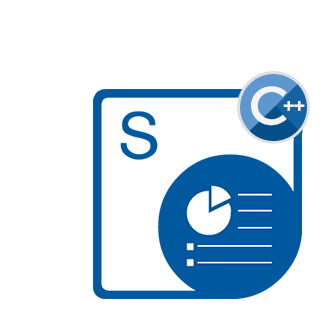 Platform Independence
Aspose.Slides for C++ supports C++ applications.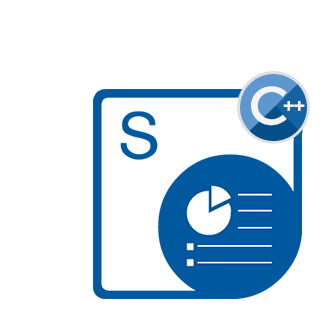 Supported File Formats
API supports PowerPoint formats as well as some other commonly used file formats.
Microsoft PowerPoint: PPT, POT, PPS, PPTX, POTX, PPSX, PPTM, PPSM, POTM
OpenOffice: ODP
Open Document: OTP
Others: TIFF, EMF, XML
Fixed Layout: PDF, XPS
Images: JPEG, PNG, GIF, BMP, SVG
Web: HTML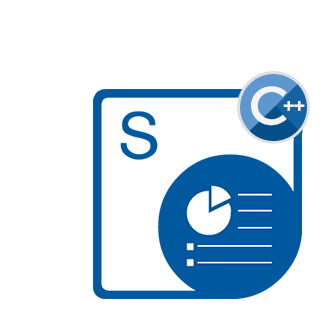 Previous
Next
Advanced C++ PowerPoint Processing Library Features
Save the presentation to file or stream
Convert presentations to standard formats
Manage built-in & custom document properties
Password protect presentations
Add, format & manipulate charts
Add, format & manipulate shapes
Add, format & manipulate slides
Add, format & manipulate text
Add, format & manipulate tables
Export presentations to PDF & XPS
Export slides in SVG format
Add images to presentations
Generate presentations from database
Support for MSO 2016 Charts
Export presentations as HTML
Import & export HTML text in slides
Add layout slides to presentations
Load protected presentations
Set Font Size of Individual Legend
Create Stock Chart & Get Chart Image
Set Chart Area Rounded Borders
Change Color of Categories in Series
Set Font Properties for Chart Data Table
Export PowerPoint Files as PDF or XPS
Aspose.Slides for C++ has its own rendering engine, specially designed for rendering with highest of fidelity to the Microsoft PowerPoint. This feature allows you to export presentations to industry-standard formats such as PDF and XPS with results identical to the original presentation.
Render presentation in PDF & XPS formats - C++
// load presentation to be converted
SharedPtr<Presentation> prs = MakeObject<Presentation>(dir + L"template.pptx");
// save in PDF & XPS formats
prs->Save(dir + L"output.pdf", Aspose::Slides::Export::SaveFormat::Pdf);
prs->Save(dir + L"output.xps", Aspose::Slides::Export::SaveFormat::Xps);
Copy or Clone Presentation Slides
There are built-in methods provided by Aspose.Slides for C++ to clone or copy existing slides not only within a document but also from one file to the other. Since a slide inherits its layout from the master slide, the built-in cloning methods automatically copy the master during the cloning process.
Microsoft PowerPoint Content Formatting
It is possible to format text and shapes on slides in a file while using API. Text is managed through text frames associated with shapes, hence text is formatted using paragraphs and portions associated with the text frames. You can manage the font type, color, size, shades as well as the paragraph alignment, bulleting & orientation. You can also manipulate attributes of the shape element like position, size, line, image, text and fill with great ease.
Serialize Shapes
Although Aspose.Slides for C++ supports a large number of shapes, however, if a shape is not supported by the API, there is a serialization method provided through which you can serialize that shape from an existing slide for further usage as per application requirement.
Support and Learning Resources
Why Aspose.Slides for C++?
Aspose.Slides offers individual PowerPoint APIs for other popular development environments as listed below: