Java APIs to manipulate OneNote documents
Deliver Java applications having the ability to Create, Manipulate or Convert OneNote documents without installing Microsoft OneNote.
  Download Free Trial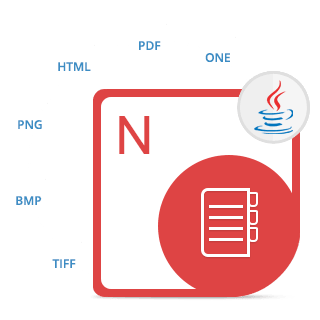 Aspose.Note for Java
Aspose.Note for Java is a feature-rich OneNote API that enables the Java applications to dynamically interact with OneNote documents without requiring Microsoft OneNote. Aspose.Note for Java empowers the developers to create, read, manipulate and export the contents of the Microsoft OneNote file format. The API also allows to manage attachments, text, hyperlinks, tables, tags and text styles.
The OneNote API is easy to use, saves time, and developers can create robust solutions with less code. On top of it, Aspose.Note for Java is a standalone component that does not require any other tools or software to work with OneNote files.
At A Glance
An overview of the capabilities of Aspose.Note for Java.
Page
PageSeries
Title
Image
Rich Text
Section
Outline
OutlineGroup
OutlineElement
Document
Render Complete File
Render Specific Part of File
Extract Text & Images
Access Positioning Information
Access Formatting Information
Add & Modify Text
Insert Image
Add & Modify Graphical Elements
Platform Independence
Aspose.Note for Java supports the JDK 1.7 and above.
JSP/JSF Application
Desktop Application
Supported File Formats
Aspose.Note for Java supports OneNote native format along with raster image formats & fixed-layout format for rendering.
Fixed Layout: PDF
Web: HTML
Images: JPEG, PNG, BMP, TIFF, GIF
Previous
Next
Advanced Java OneNote API Features
Convert OneNote document to PDF
Convert OneNote file to image
Save OneNote document to stream
Retrieve attached files from OneNote document
Add hyperlink to OneNote document
Extract text from the table of OneNote document
Extract images from OneNote document
Get Outlook tasks details from OneNote document
Replace text from OneNote document pages
Access Data from OneNote Documents
Aspose.Note for Java allows to load OneNote documents in your Java Desktop and Web applications thus allowing you to access the data for different objects like document, pages, text, images, tables, attachments, tags and so on.
Render OneNote Files to PDF & Image Formats
Using Aspose.Note for Java, developers can open ONE files and export them to PDF and popular image formats including BMP, JPEG, PNG, GIF and TIFF, with high fidelity.
Save document in different formats - Java
// load the file to be converted
Document document = new Document(dir + "template.one");
// save in different formats
document.save(dir + "output.pdf", SaveFormat.Pdf);
document.save(dir + "output.jpg", SaveFormat.Jpeg);
document.save(dir + "output.tiff", SaveFormat.Tiff);
Microsoft Office OneNote Automation - Not Needed
Aspose.Note for Java is built using managed code that does not need Microsoft Office or Microsoft OneNote to be installed on the machine to work with OneNote files. It is a perfect Microsoft OneNote automation alternative in terms of supported features, security, stability, scalability, speed and price.
Support and Learning Resources
Why Aspose.Note for Java?
Aspose.Note offers individual OneNote APIs for other popular development environments as listed below: