Java APIs to manipulate Excel spreadsheets
Dynamically Create, Manipulate, Convert, Protect or Print Excel Spreadsheets (including more than 10 file formats) without installing Microsoft Excel.
  Download Free Trial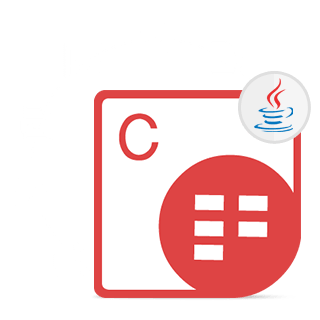 Aspose.Cells for Java
Aspose.Cells for Java is an award-winning Excel Spreadsheet Processing API that allows the Java developers to embed the ability to read, write and manipulate Excel spreadsheets from within their own Java applications without needing to rely on Microsoft Excel.
Aspose.Cells for Java is a mature, scalable and feature rich API, offering many functions that are way beyond the simple data exporting capabilities of other components available on the market. Aspose.Cells for Java provides the capabilities to export data, format spreadsheets to the most granular level, import images, create charts, apply and calculate complex formulas, stream Excel data & save the result in various formats.
At A Glance
An overview of Aspose.Cells for Java capabilities.
Convert Chart to Image
Convert Worksheet to Image
Convert Spreadsheet to PDF
Printing
Apply Formatting
Create Charts
Apply Formulas
Summarize
Smart Markers
 Aspose.Cells GridWeb Control
Supports JSP Web Application
Supports Loading Excel Files
Supports Saving Excel Files
Porvides Editing Capabilities
Compatible with Modern Browsers
Platform Independence
Aspose.Cells for Java fully supports Java based applications developed in Windows Unix/Linux and Mac platforms.
JSP/JSF Application
Desktop Application
Supported File Formats
Aspose.Cells for Java supports the popular spreadsheet formats along with most commonly used image & fixed-layout formats.
Microsoft Excel: XLS, XLSX, XLSB, XLTX, XLTM, XLSM, XML
OpenOffice: ODS
Text: CSV, Tab-Delimited, TXT
Web: HTML, MHTML
Fixed Layout: PDF, PDF/A, XPS
Images: JPEG, PNG, BMP, SVG, TIFF, EMF
Previous
Next
Advanced Java Excel Spreadsheet API Features
Aspose.Cells for Java includes the following features:
Ability to save & load Excel files to and from streams
Send output to client browser
Load & save ODS format files
Import & export data from Array, ArrayList & Recordset
Create images & charts through the product API
Import formulae from a designer spreadsheet
Print spreadsheets to physical printer
Aspose.Cells for Java also supports a number of unique features that developers will only find in Aspose.Cells for Java:
Support for CSV, Tab-delimited & HTML formats
Populate worksheets through Smart Markers
Create & manipulate comments
Set auto-filters & page breaks
Create & manipulate conditional formatting rules
Set protection options introduced in Microsoft Excel XP
Create & manipulate named ranges
Create, manipulate & refresh Pivot Tables
Save as HTML files or streams
Create & render sparklines
Create, manipulate & render charts
Formula calculation engine
Export worksheets as SVG files
Read & write large spreadsheets in light-weight mode
Re-sample images in Excel-to-PDF conversion
Trace Precedents & Dependents
Create & manipulate Scenarios
Modify VBA code or Macros in the template file
Save ODS files in ODF 1.1 and 1.2 specifications
Optimize memory usage while working with large files
Any Platform – One Spreadsheet Processing Solution
Aspose.Cells for Java together with Aspose.Cells for .NET cover the main development environments and deployment platforms in common use today.
Aspose.Cells for Java is available for Java 1.6, 1.7 & 1.8, and will run on any place where Java Runtime is installed. You can also use Aspose.Cells for Java with Perl, PHP and Python.
Flexible Worksheet Display Options
Aspose.Cells for Java gives you complete control over the worksheet's page setup thus allowing you to manipulate a wide range of Excel worksheet display options such as page breaks & zoom level. You may also control the data visibility using freeze panes, set page orientation options, scaling, paper size, headers/footers and print area.
Excel Security Options for Protecting Worksheets
Aspose.Cells for Java offers a wide range of security features including support for Excel 2007 XLSX file encryption/decryption, content, object & scenario protection and the ability to hide and un-hide rows, columns & worksheet.
Manipulate Rows & Columns
Aspose.Cells for Java allows you to manipulate rows and columns in many different ways. You can easily adjust row height & column width, auto size the width/height of cells according to contents, insert & delete, hide & un-hide as well as group & un-group rows and columns.
Data Management within Worksheets
Aspose.Cells for Java provides extensive support for data management. You can easily manipulate any cell in the Worksheet at runtime and import data into worksheets from different data sources.
Comprehensive Worksheet Formatting Support
Aspose.Cells for Java gives you absolute control over how your data is presented by offering advanced formatting features. You can apply formatting to a worksheet, row, column and cell. You can also add Rich Text to a single cell and apply different borders, background patterns and fonts. Conditional formatting can also be applied to cells.
Chart Creation & Manipulation
Aspose.Cells for Java comes with complete support for charting. You can easily add standard or customized charts using the product API, and dynamically set the data in order to refresh the charts. The API also allows you to convert charts to a number of image formats & PDF.
Aspose.Cells GridWeb Control
Aspose.Cells for Java prodvides a GUI control for web applications having the following features:
Can be embedded in JSP web applications.
Compatibility with all modern web browsers like Chrome, FireFox, Internet Explorer and Opera.
Open, save and edit the Excel files using the web control.
Support and Learning Resources
Why Aspose.Cells for Java?
Aspose.Cells offers individual Excel APIs for other popular development environments as listed below: