Java Image Processing APIs 
Generate, Manipulate and Save images without any image editor dependencies within Java-based applications.
  Download Free Trial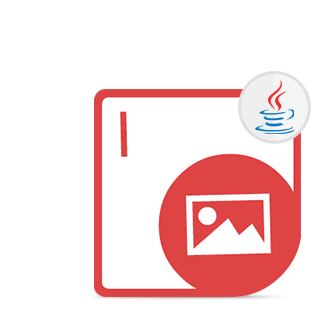 Aspose.Imaging for Java
Aspose.Imaging for Java is a flexible powerful API to process and manipulate images. API provides image processing tasks such as converting an image from one format to another, drawing native objects as well as GraphicsPaths and geometric transformations such as scaling, rotation and flipping. Furthermore, API supports to manipulate multiple image frames or to read and write file formats which support multiple image frames.
Aspose.Imaging for Java provides a wide range of compression algorithms along with various image processing tasks as well as supports maximum file formats from raster-based graphical imaging.
At A Glance
An overview of Aspose.Imaging for Java product.
Pixel Manipulation
Paths
Graphics
Crop
Resize
Rotate
Compress
Concatenate
Recover
Convert
Platform Independence
Aspose.Imaging for Java supports the JDK 1.6 and above.
JSP/JSF Web Applications
Desktop Applications
Supported File Formats and Export to PDF
Aspose.Imaging for Java supports a wide range of conventional & special image formats.
Raster Formats: JPEG2000, JPEG, BMP, TIFF, GIF, PNG
Metafiles: EMF, WMF
Photoshop: PSD
Others: WebP
SVG
DICOM
DjVu
DNG
ODG
EPS
CMX
Previous
Next
Advanced Java Images Processing API Features
Create images from scratch
Load & edit existing images
Crop, resize & rotate-flip images
Export images to a variety of formats
Extract frames from multi-page Tiff image
Draw images using pixel manipulation
Draw images using Graphics and GraphicsPath
Draw text while controlling the font aspects
Add Multiple images inside Tiff Frames
Save SVG with Fonts embedded or Exported
Image Formats Conversion
Along with the rich set of image processing routines, Aspose.Imaging for Java also provides an array of advanced algorithms that makes it an all-in-one solution for image format conversion. These algorithms are encapsulated in specialized classes that are simple to use and can export images to conventional raster image formats along with SVG, PSD, WMF, EMF, DjVu, DICOM, DNG & WebP formats.
Save image in different formats - Java
// load image to be converted
Image image = Image.load(dir + "template.jpg");
// save in PSD format
image.save(dir + "output.psd", new PsdOptions());
// save in TIFF format
image.save(dir + "output.tiff", new TiffOptions(TiffExpectedFormat.Default));
// save in SVG format
SvgOptions svgOptions = new SvgOptions();
SvgRasterizationOptions svgRasterizationOptions = new SvgRasterizationOptions();
svgRasterizationOptions.setPageWidth(image.getWidth());
svgRasterizationOptions.setPageHeight(image.getHeight());
svgOptions.setVectorRasterizationOptions(svgRasterizationOptions);
image.save(dir + "output.svg", svgOptions);
Draw Images On the Fly
Aspose.Imaging for Java supports an advanced set of drawing features along with the core functionality. Developers can draw on the image surface either by manipulating the pixel information or by using the advanced functionality like graphics and paths.
Aspose.Imaging for Java API enables you to easily draw lines, curves, rectangles & other geometric shapes, fill closed shapes with solid colors or gradients & textures, draw text with options for fine control over the font and draw images by loading existing image data.
Register Custom File Formats
Another promising feature that Aspose.Imaging for Java API provides is to register custom image formats. Aspose.Imaging for Java allows the developers to register new custom file formats to create, open or export to by using one of  Aspose.Imaging for Java registry APIs for corresponding operation. This feature allows the addition of new file formats which can be used for drawing and export purposes.
Transform Images to Grayscale
Grayscaling is the process of converting a continuous-tone image to an image with discontinues gray shades. With Aspose.Imaging, transforming any image to its grayscale representation is as simple as calling a single method on the supplied RasterImage.
Transform image to grayscale - Java
// load the image to be transformed
Image image = Image.load(dir + "template.png");
// cast the image to RasterCachedImage
RasterImage rasterImage = (RasterImage) image;
// transform image to its grayscale representation
rasterImage.grayscale();
// save the resultant image
rasterImage.save(dir + "output.png");
Extract Data from TIFF Formats
Aspose.Imaging provides extensive support for TIFF file format including the feature of data recovery, using which the developers can extract the data from a broken TIFF image with some loss. The data recovery allows loading a TIFF file that has improper data layout or corrupted data strips. Data recovery replaces the corrupted data with any color, and the resultant image can be further processed without experiencing errors.
Support and Learning Resources
Why Aspose.Imaging for Java?
Aspose.Imaging offers individual Imaging APIs for other popular development environments as listed below: